One of the best things about educating yourself on digital assets and cryptocurrencies is the vast number of resources out there. From books to podcasts and even YouTube channels, there's something for everyone. What's more, a fair number of these resources are free to view, making this financial movement accessible to anyone and everyone.
In today's article, we'll introduce to you some of our favorite cryptocurrency websites where you can learn about the assets themselves while keeping yourself up to date with the news surrounding them.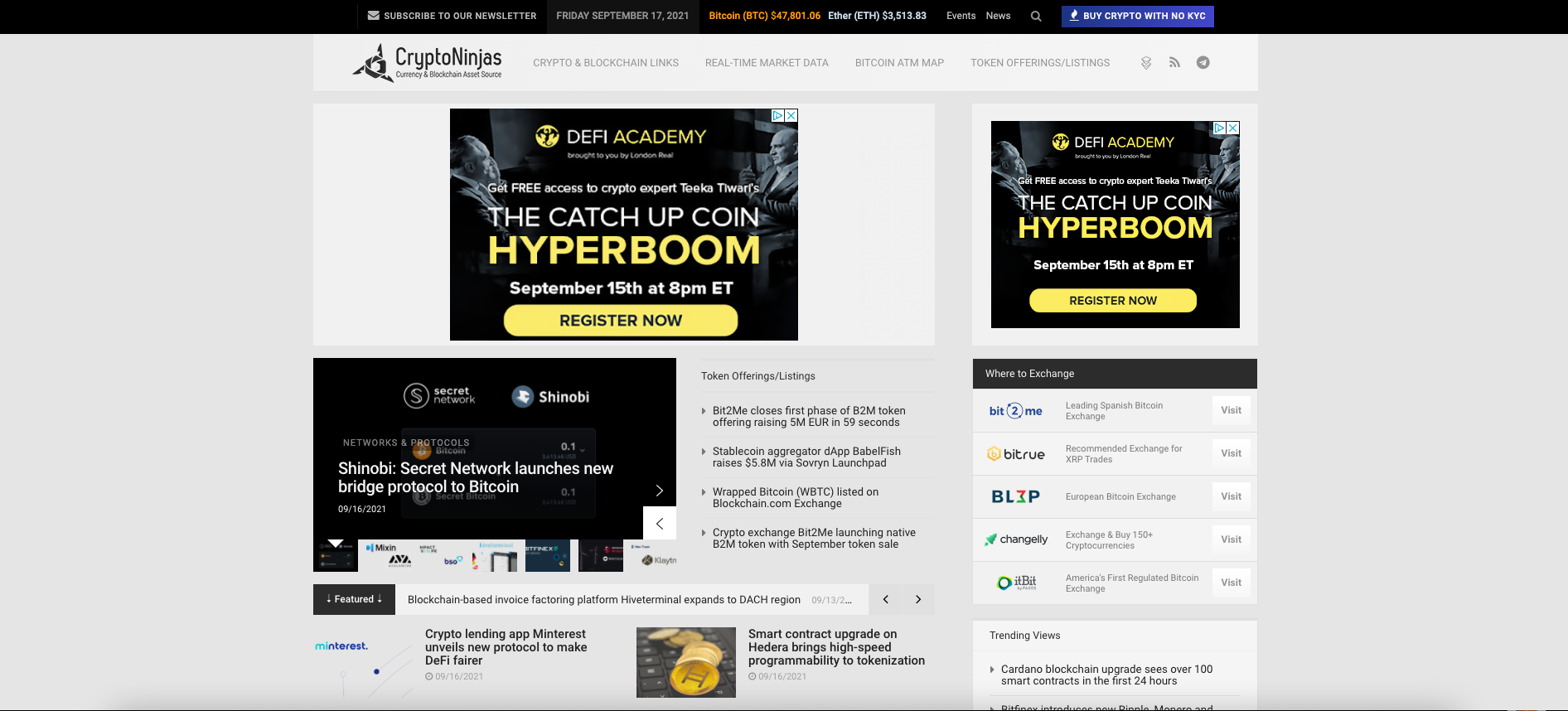 Established in 2016, CryptoNinjas is one of the internet's favorite sources of cryptocurrency and digital asset information. It combines real-time market data with news of token offerings to help you decide on which assets to invest in.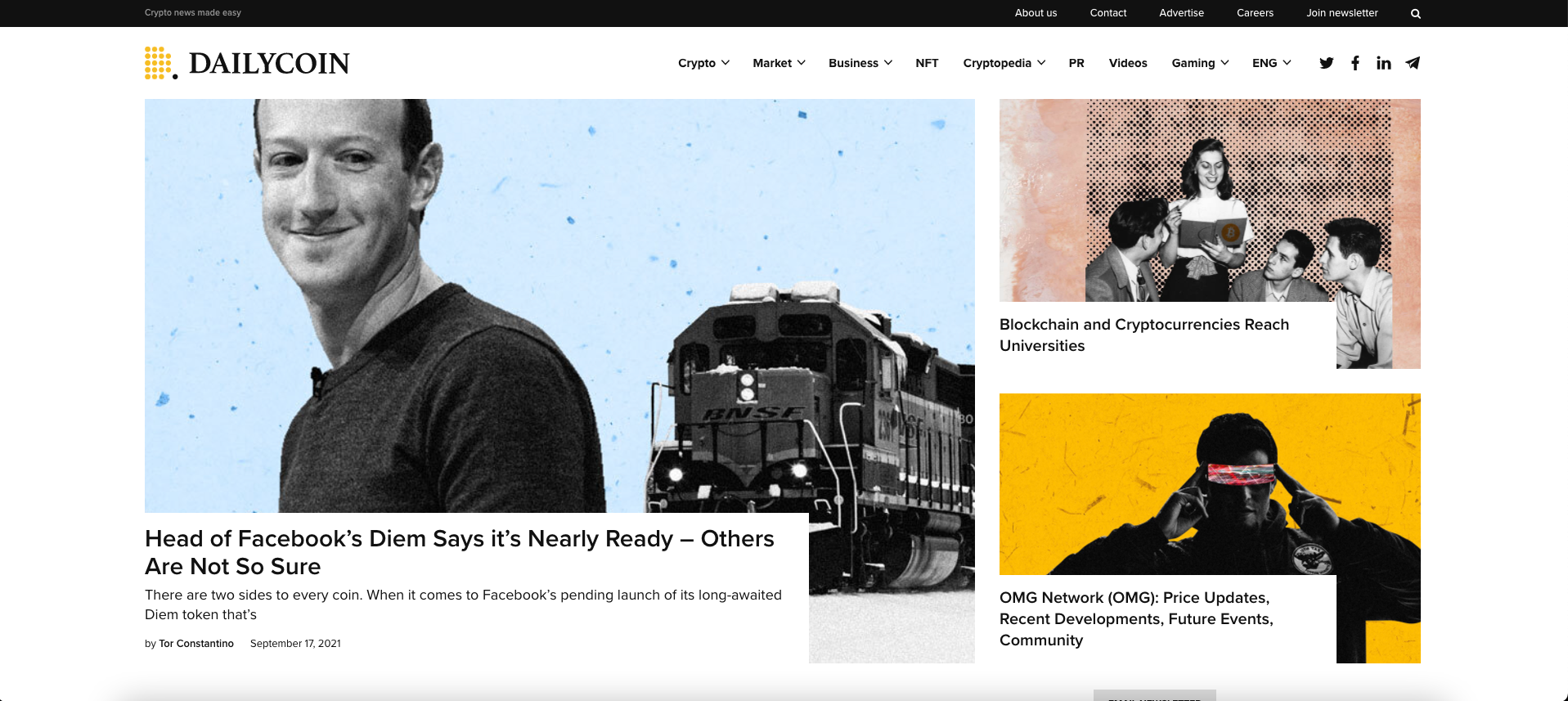 With its simple-to-navigate website and insightful stories, it's easy to see why Daily Coin is another internet favorite. From general crypto news to market op-eds, it covers all the latest trends. To help beginners understand the crypto world better, the site also has a "Cryptopedia" session, covering the basics of Bitcoin, Ethereum, and blockchain.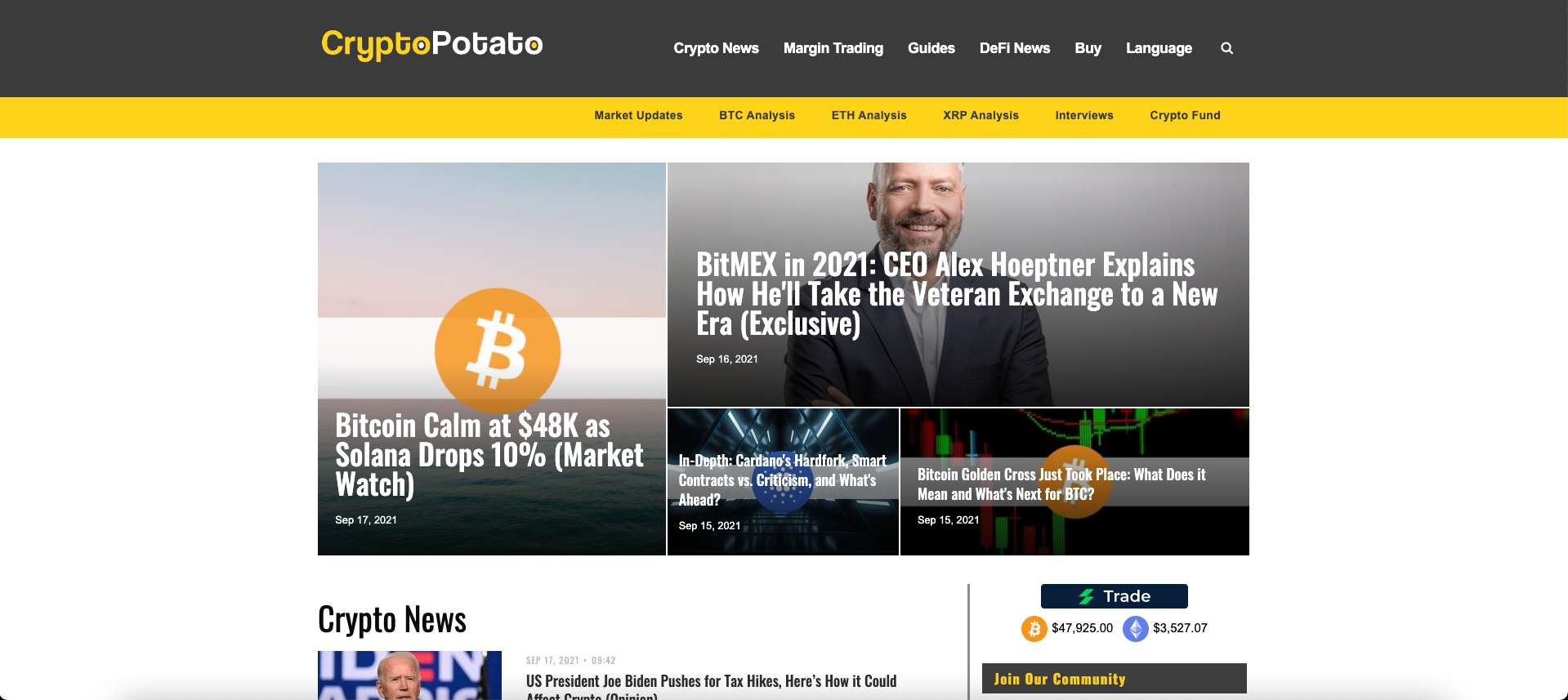 Created in 2016 by early cryptocurrency adopters, CryptoPotato is one of the leading sources of information for investors. The site's content is consistent with many high-quality posts featuring crypto-price analysis pieces and global crypto news.
If you're looking for something a little more niche, try reading Zima Red and listening to the platform's podcast. This substack by Andrew Steinwold specializes in NFTs, the virtual world, and blockchain games. If you've ever wanted to understand why NFTs are so popular or are just looking for exciting new projects to read about, look no further.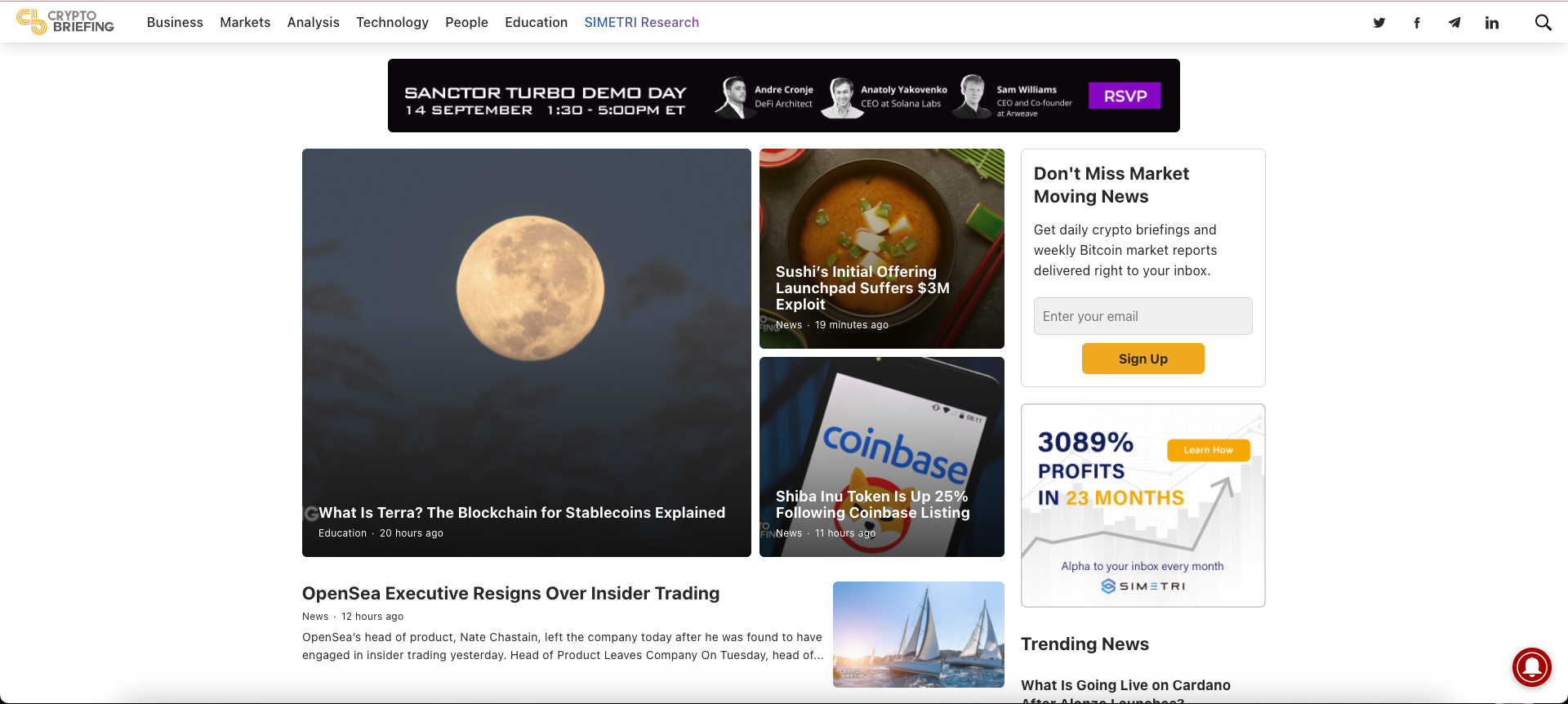 Crypto Briefing is a community-driven resource that aims to educate individuals around the world on crypto, making it a credible source to learn from. Its strength lies in its balance between offering pieces on macro market analysis and diving deeper into the technology that powers crypto-assets.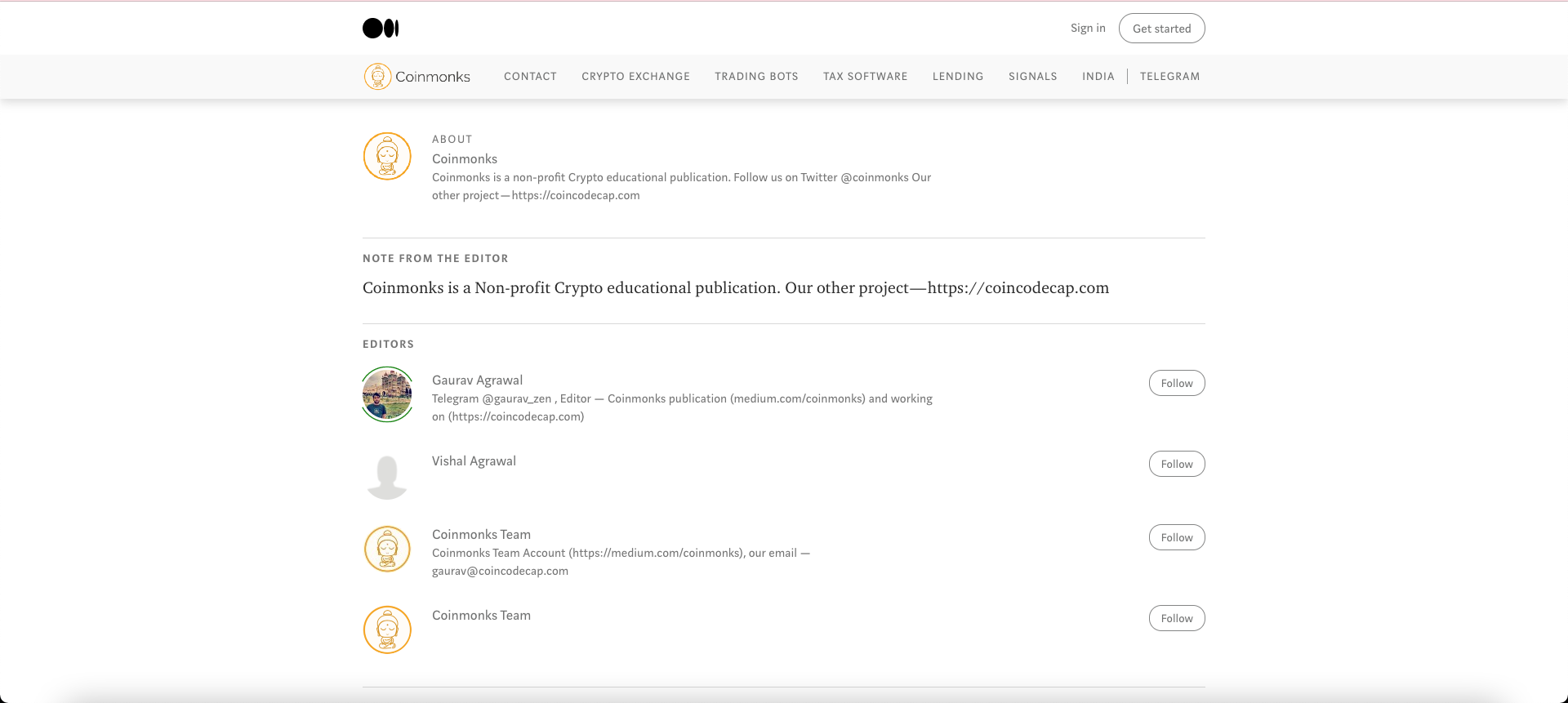 If you've been around for a while, you've probably heard of Coinmonks. Coinmonks is a non-profit crypto educational online publication that aims to provide its users with general and technical insights into crypto trading.
Decrypt is one of the best crypto websites you'll find out there. In addition to providing you with up-to-date news, it also features:
a place for you to learn about the basics of crypto and blockchain,
a section for coin features,
NFT collections,
and editorial reviews behind crypto products.

In addition to its news site, Decrypt also has an app, allowing users to download and read on the go. It also emphasizes community building and sharing and helps boost this with its multiple social media platforms. These include its Twitter, Facebook, Telegram, and Discord channels, amongst others.
With its high-quality reporting and multitude of options to help you learn, we consider Decrypt to be one of the top sites out there!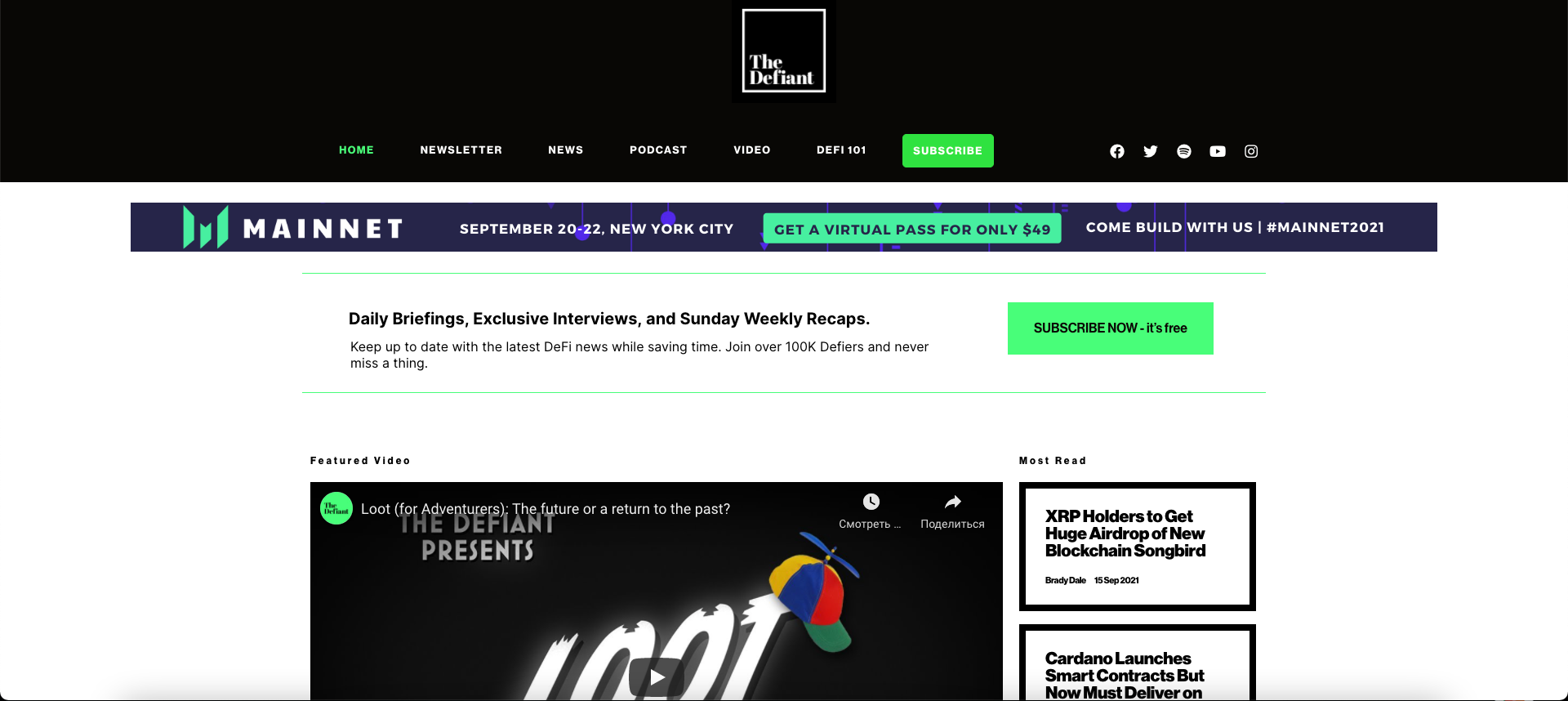 If you've ever read one of the first books written about Ethereum, "The Infinite Machine" by Camila Russo, you might have heard about the Defiant. Founded and led by Russo, The Defiant is an essential read for anyone hoping to make the leap from TradFi to DeFi. The site analyzes all major developments in DeFi, helping you stay up to date with the most cutting-edge news in the crypto sphere.

In addition to news, the site also provides Daily Briefings straight to your inbox, regularly creates exclusive interviews with famous people from the crypto world, and also creates insightful video content. This is undoubtedly a website you'll want to stay subscribed to.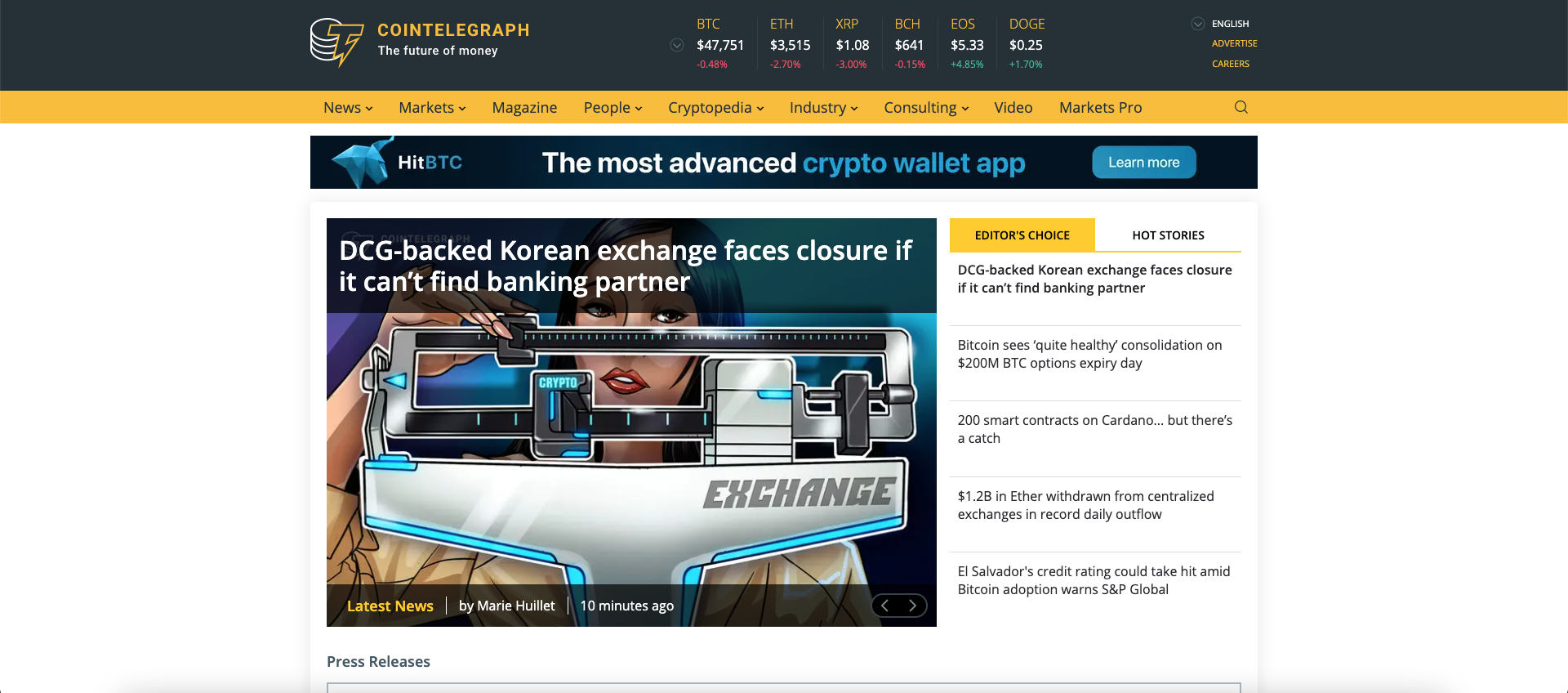 One of the oldest crypto media sites, CoinTelegraph, stands firmly as one of the top crypto news and opinions sources. There's something for everyone to explore and learn about on this new platform. Beyond offering news on the usual blue-chip crypto assets, CoinTelegraph also covers up and coming coins, business, and traditional market news, as well as policy and regulations.
It also features market tools in the form of various price indexes, as well as a very helpful Cryptopedia section that will give you a crash course on everything you need to know.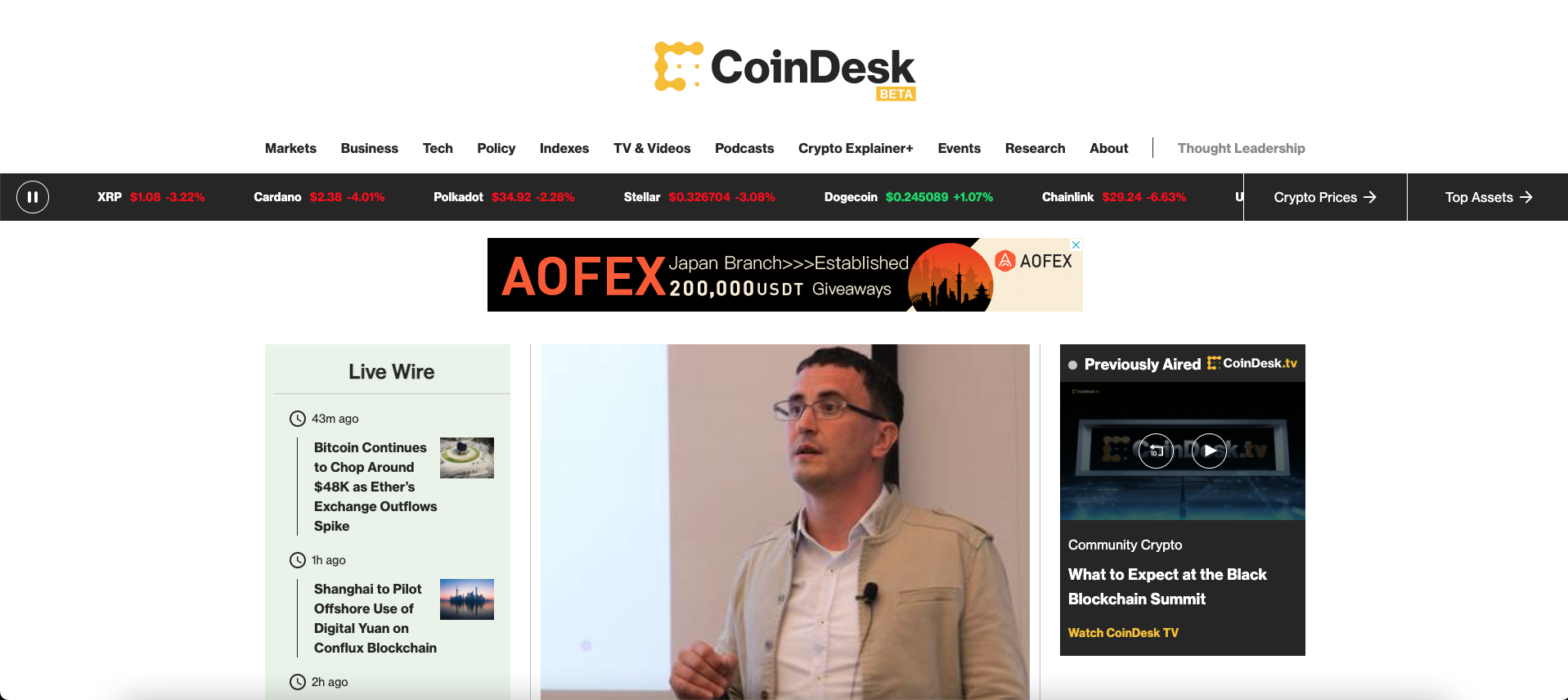 Everyone knows about CoinDesk, and it's easy to see why. Created in 2013, it is a staple in every investor's reading list. The reporting is top-notch, well-informed, and offers valuable perspectives to readers. Hosting authors and contributors from various fields worldwide, CoinDesk's strengths lie in its ability to analyze and provide informed opinions on daily news.
If you're looking for an engaging source to get started with or simply hope to learn something new as a veteran investor, CoinDesk is the website to read.
Conclusion
With so many websites available, you'll definitely be able to find one that resonates with the type of content you like. Keep reading and keep paying attention – there's always something new to learn.
Did we miss any websites that you like? Let us know in the comments!
If you are ready to start investing sign up for a Nebeus account to take your crypto to the next level.