It's no secret that some of the best alpha and trading advice gets broadcast on Twitter. In addition to videos, podcasts, blog articles, and books, one of the best ways to learn is from individuals themselves. With tweets and threads that are easily digestible, it wouldn't be surprising that you could even stand to learn more from this medium. We've picked out a mix of traders, analysts, and educational accounts we've found useful.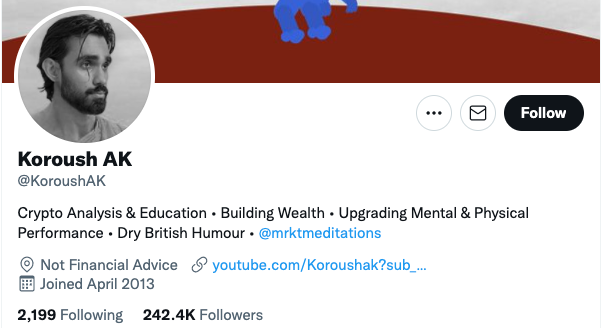 In addition to dry British humor, Koroush's account is an exceptional resource for anyone looking to learn how to trade. In addition to some chart analysis basics, you'll also find links to his newsletter and podcast, Market Meditations. These resources provide you with the lowdown on what's going on in the crypto world and globally almost every day, giving newbies the perfect introduction to this corner of the internet.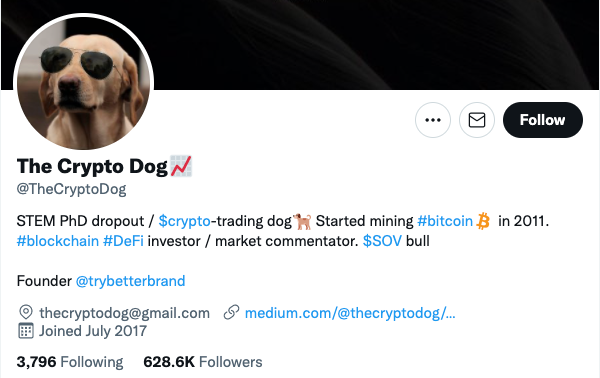 Market commentator and crypto trader, the Crypto Dog, has been around since 2017. In addition to this, he has been mining Bitcoin since 2011. His account is a combination of retweets from some of the most exciting projects out there, alongside his market analysis. If you only have so much time in a day, make sure this is one of the accounts you check out.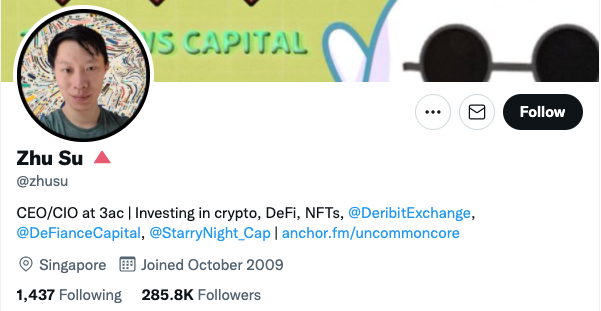 Zhu Su is the CEO/CIO of 3 Arrows Capital, amongst the other hats he wears. He frequently shares his insights on investing, trading, and policy on his Twitter account – nuggets of wisdom that many have found to be useful. He combines these perspectives with a healthy dose of humor and memes, so his feed is one of the most enjoyable ones out there.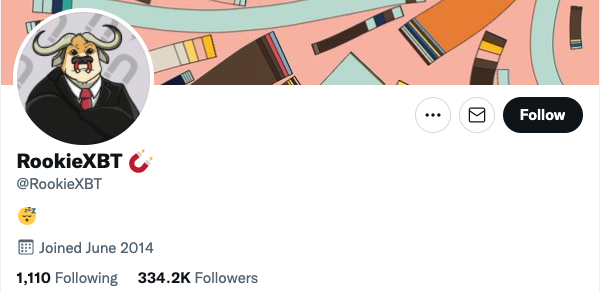 Rookie is known for turning his savings of $30,000 into $1.6 Million over the course of 9 months from his parent's basement. All these trades happened publicly, with Rookie posting his transactions and addresses online for all to verify and learn from. This was an impressive feat that helped him grow his following and attract the attention of numerous big figures in the crypto space. These days, he continues to dish out trading advice that many have found helpful.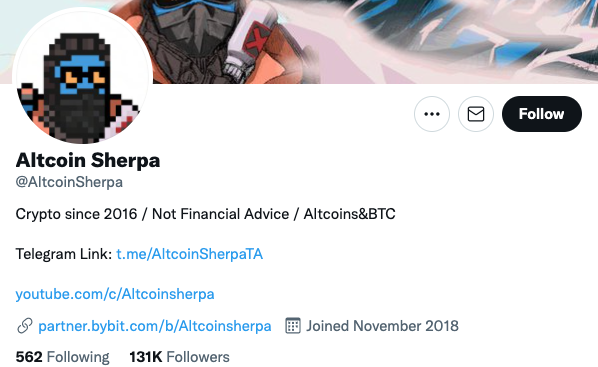 If you're looking for some analysis on altcoins, in addition to the usual blue chips of BTC and ETH, AltcoinSherpa's account is an excellent feed to check out. Here, you'll get your daily dose of chart analysis tweets and commentary on price action. Some coins that he has recently covered include $DOT, $FTT, and $SOL.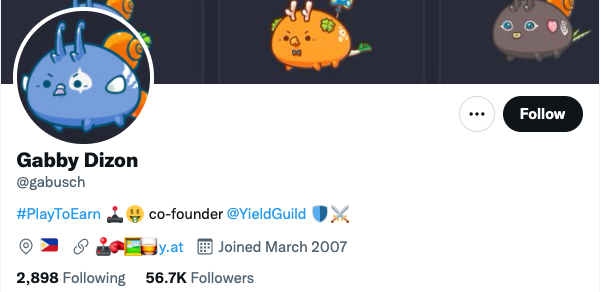 Gabby is the co-founder of Yield Guild Games, a play-to-earn guild that brings players together to help them make the most out of their blockchain gaming efforts. Gabby frequently posts news and shares insights on some of the most exciting NFT and blockchain gaming projects, together with insights on their marketplaces and communities. If you're interested in learning more about the play-to-earn space, this is an account you'll want to follow.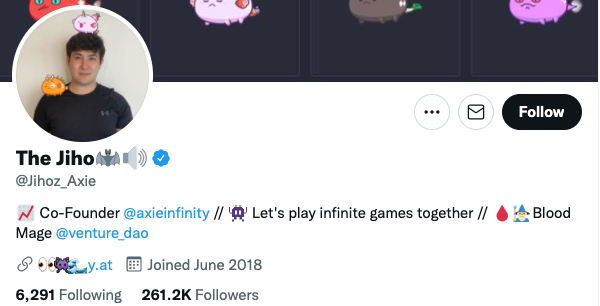 If you're familiar with Axie Infinity, currently one of the most well-known play-to-earn projects, you'd probably know who Jeff 'Jiho' Zerlin is. For the uninitiated, the Jiho is the co-founder of Axie Infinity and has contributed plenty of wise words on NFTs and collectibles. From updates on the Axie community to other exciting NFT developments, put this account on your list to keep learning.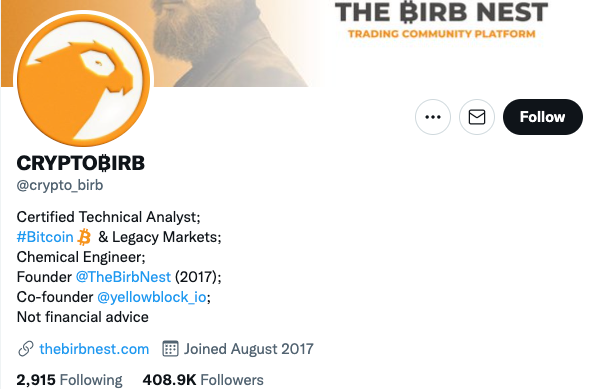 Looking to brush up on your chart analysis skills? Then check out Cryptobirb. In addition to being a Founder and CEO of @TheBirbNest, a trading analysis group, Cryptobirb is also a Certified Technical Analyst and the co-founder of YellowBlock, a blockchain educational hub. If you're interested in learning about all of this, give the account a follow, and help pump it to 400k followers!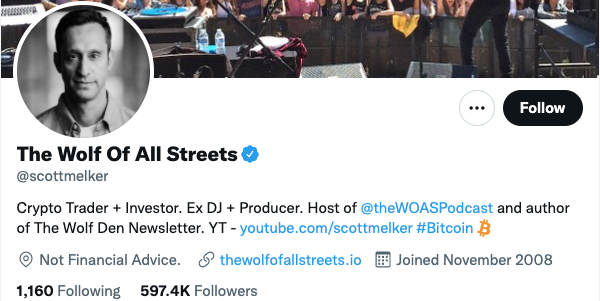 Writer of the popular The Wolf Den crypto and trading newsletter, Scott's account is a gem. He frequently contributes to talk shows and comments on key issues driving Bitcoin, Ethereum, amongst other currencies. Both accessible and analytical, his account has provided value to both beginner and veteran investors everywhere.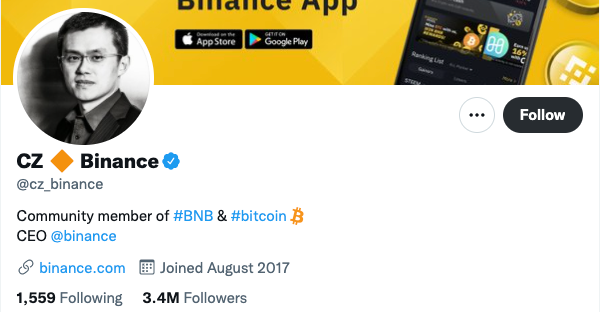 You didn't think we'd finish off this list without mentioning the CEO of Binance, did you? Whatever your thoughts on him are, it is undeniable that 3.4 million people follow his account as of the date of this article. While Binance has been battling legislative pressures these days, it's just as interesting to see CZ's comments on the global legislative landscape. As these regulatory issues continue to play out, his account (along with the other accounts of centralized exchanges) will be interesting ones to watch.
Did we miss any of your favorite crypto influencers? Let us know!
If you are ready to start investing sign up for a Nebeus account to take your crypto to the next level.